O nama
Demars International je otpremnička tvrtka osnovana 1990. u New York City-u s vizijom i zadatkom organizacije kontejnerskog transporta svih vrsta roba morem i zrakom između Sjedinjenih Američkih Država i Jugoistočne Europe. Formiranjem novonastalih država na ovom području i proširenjem poslovanja otvorena su predstavništva u Rijeci – Hrvatska, Beogradu – Srbija i Baru – Crna Gora, a vrlo dobre poslovne odnose održavamo s više od 80 agenata i poslovnih suradnika u regiji, ali i važnijim centrima u svijetu.
Što nas čini drukčijima od ostalih transportnih kompanija je činjenica da smo uz prijevoze svih vrsta generalnih tereta posebno razvili tehniku kopnenih prijevoza, ukrcaja i iskrcaja, te pomorskih prijevoza specijalnih i/ili vangabaritnih tereta te automobila, jahti, motorkotača s dva i četiri kotača, motornih saonica, građevinskih i šumskih strojeva. Uz kopneni transport, lučke manipulacije i pomorski prijevoz osiguravamo potrebne licence, carinske i transportne dokumente.
Naša osnovna djelatnost je i dalje poziciranje čitavih kontejnera na adresu pošiljaoca, prekomorski prijevoz i dovoz kontejnera do adrese primaoca, tzv. Servis od Vrata do Vrata (Door to Door Service). U razdoblju dužem od 20 godina prevezli preko 8000 automobilla i ostalih motornih vozila, te preko 10,000 TEU-a (kontejnerskih jedinica) raznih vrsta roba.
Ističem činjenicu da je Demars International transportno otpremništvo gdje uz pribavljanje i obradu svih potrebnih dokumenata, uključujući uvozno i izvozno carinjenje roba, obavljamo sve vrste prijevoza roba na svim relacijama i svim prijevoznim sredstvima. Tvrtka Demars International Rijeka, HR razvila je vrlo dobre poslovne odnose sa matičnom tvrtkom Demars International New York City, USA i sa našim sestrinskim tvrtkama Pinki Enterprises, Inc. i Sail Container Line. Sa svim važnijim brodskim i avionskim predstavnicima, kao sto su CMA-CGM, MSC, Hapag Lloyd, American President Line, HUAL, Nordana Lines, K-Line, ACL, Czech Airlines, Lufthansa, Al Italia, DHL Aviation, Croatia Airlines, Montenegro Airlines, Air Serbia i mnogim drugima imamo dugogodišnje poslovne odnose od kojih s nekima imamo i povlaštene ugovore o suradnji u međunarodnom prijevozu roba.
Dugogodišnje iskustvo u organizaciji avioprijevoza omogućuje nam da našim klijentima osiguramo kvalitetnu i stručnu pomoć pri organizaciji zračnih prijevoza u izvozu iz Republike Hrvatske ili Sjedinjenih Američkih Država.
Među većim tvtkama za koje smo tijekom svih tih godina obavljali avionske i/ili pomorske prijevoze, ubrajamo Nuklearnu Elektranu Krsko, INA, Croatialine, Hrvatsku Elektroprivredu, poduzeće Rade Končar/Siemens, Energoinvest, Air Serbis, Institut Mihailo Pupin, Montenegro Airlines, Makpetrol i mnoge druge.
Naš vrlo popularan servis su zbirni kontejneri koje redovito polaze iz New York City-ja za Rijeku i Ploče – HR, Koper – SI, Bar – ME, Drač – AL . Vaše pošiljke od većih komercijalnih pošiljki, automobila, motorkotača i sličnog pa sve do manjih eBay.com, Amazon.com i sličnih pošiljki, prikupljenih iz svih dijelova SAD prevozimo vrlo povoljno do jedne od navedenih luka, odakle se mogu dalje otpremati do krajnjih destinacija u Hrvatskoj, Sloveniji, Bosni, Srbiji itd. HITNE pošiljke prevozimo avionima od svih većih zračnih luka u SAD do svih većih zračnih luka u regiji i šire, uz mogućnost dodatnih usluga prijevoza od prodavaoca do izvoznih zračnih luka i od uvoznih zračnih luka do sjedišta kupca.
U slučaju potrebe, pomažemo pri lociranju, nabavi i plaćanja robe prema američkim dobavljačima roba i prodavaocima.
Demars International se 2013. udružio s kompanijama Sail Container Line i Pinki Enterprises, Inc. kako bi se na međunarodnom tržištu pojavili kao snažniji i veći otpremnički subjekt.
Iskustvo stečeno poslovanjem od gotovo četvrt stoljeća, kvalitetna mreža vlastitih poslovnica i agenata, stručno osoblje i ugovori s drugim transportnim i otpravničkim čimbenicima omogućili su nam do sada, a garantiraju i ubuduće, ekspeditivno poslovanje i kvalitetnu uslugu našim klijentima.
Demars International is a full service Warehousing and Freight Forwarding Company founded in 1990 in New York City, USA. First fifteen years we have been developing Air and Ocean transports between USA and South Eastern Europe (involving our NYC/USA, Rijeka/Croatia, Belgrade/Serbia and Bar/Montenegro Demars International offices as well as our agents throughout this region). Since then we have expended our operation utilizing close to 80 agents worldwide.
We provide Full Container shipping services (FCL) between any point in USA and any point in the rest of the world with majority of our traffic being to and from South Eastern Europe.
We maintain warehousing, crating and packing facility near JFK International Airport in vicinity of all major airline cargo terminals located next to our New York City office handling mostly Air import and export traffic. In Roselle, NJ close to New York City container and Ro-Ro Terminals through our sister company Sail Container Line we utilize warehouse that receives trans ocean shipments and loads and unloads ocean containers.
We have devoted large financial and personal resources in developing further our services to become one of leading forwarding agencies in processing shipments of special/exceptional/project, oversized cargo, yachts, boats, earthmoving, agricultural and forest machinery, automobiles, trucks, buses, motorcycles, jet skis, quads, motorcycles, skimobiles etc.
Very popular among our customers are our consolidated containers services where we load and ship to Bremerhaven, Koper, Rijeka, Ploce, Bar and Durres as well to points inland as Ljubljana, Zagreb, Sarajevo and Belgrade not only commercial LCL shipments but cars, motorcycles or boats and also your other small shipments.
Besides loading/unloading and overseas Air/Ocean transportation we can provide additional Door to Door (Warehouse to Warehouse) ground transportation from origin to ultimate consignee as well as processing of all needed documentation including import/export Customs Clearance, Consular and local Government agencies releases etc.
We are proud of our customers' continuous support and are determined to preserve and enhance quality of our services.
Our Rijeka, Croatia office located next to Rijeka Container Terminal, maintains experienced agents involved in shipping Import/Export, Customs Brokerage services and Port Terminal personnel that can supervise receiving/shipping, warehousing and loading unloading process in Import/Export and Transit through Port of Rijeka.
Beside regular shipments we specializes in Oversized/Exceptional/Project Transports, Motor vehicles, Boats, Industrial machines, etc. that are delivered to, shipped out or transshipped through port of Rijeka.
Due to almost 25 years of experience and knowledge of laws, regulations and peoples/parties involved in shipping process by our staff we are confident to be ale to provide expert and high quality of service with the most competitive price advantage.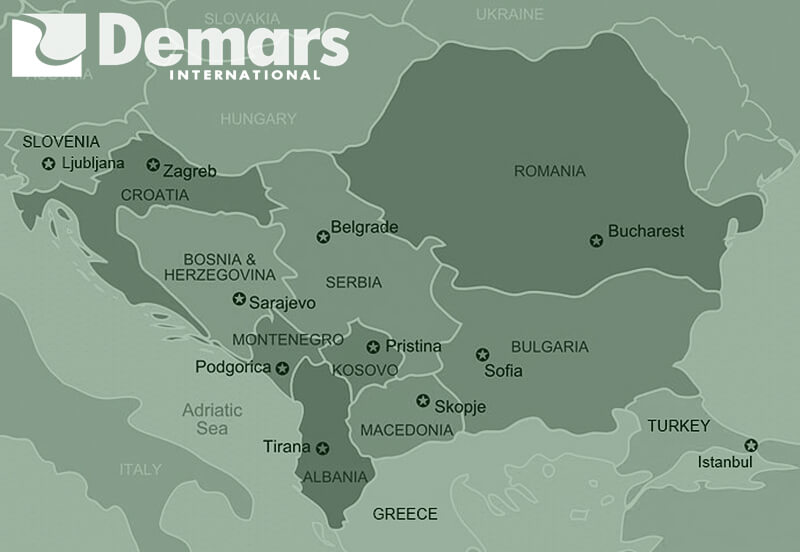 Demars International
167-25 Rockawy Blwd.
Jamaica, NY 11434, USA
E-mail: office@demars-intl.com